Video Surveillance…

Protect your business. Video surveillance can provide the coverage necessary for insurance claims incurred by break-ins, or the visual confirmation of criminal activity for law enforcement, or provide employee protection and even increase business production.
Riverview can offer video sureillance that will work with most any budget. We install DVR systems starting at four cameras and up. If you want a more robust , easily expandable system we offer an IP solution. There are benefits to both solutions, depending on building layouts and what you want the video surveillance to accomplish.
Dependent upon the environment you need to cover, we can install camers inside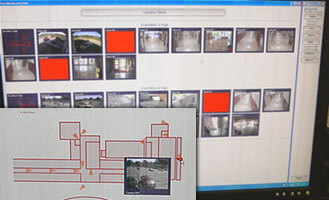 or outside, with infrared for night coverage, setup for motion or continuous capture and enough storage to retain a couple weeks worth of video. You can also access your video feed via from anywhere.
Working with 'Strand', our IP soluttion can provide you a mapping of camera locations, utliities for camera monitoring, setup specific access to specific cameras for any user and much much more.