Maintenance…
If computers or a network provides the backbone and lifeline of your business, then it is incredibly important to keep that lifeline functioning for as long as possible. A well maintained computer and/or network is more stable, runs faster, and helps in identifying and preventing potential problems. (e.g. hard drive or power supply failure)
Computers require as much care as your car or yourself.
Riverview offers monthly and quartery maintenance programs. We can help keep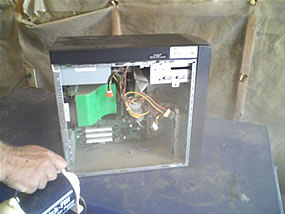 your computers clean of harmful spyware and unused files. We also provide internal cleaning of computers, removing the harmful dust that collects inside, allowing the computer to run better and last longer.
And for your convenience, we also provide this service after hours.